Online Color Guide • Color Tools Preview

Fillster offers you to use our online color editing tools. Below you can find an overview for the following sections: Color Chart, Color Palette, Color Converter, and Color Picker for helping you to find: color pigments, color HEX codes, and color RGB code.
Color Chart
The following is a complete html color chart is created to help you build your own HTML web application or website. In this HTML color spectrum chart you can find HEX (hexadecimal) color codes along with RGB triplets (Red - Green - Blue) codes for all 256 primary colors of spectrum is useful for inline style presentation of the webpage as well as for CSS (Cascading Style Sheets - external style) presentation. Also, you can find a color in alphabetical order by their color names.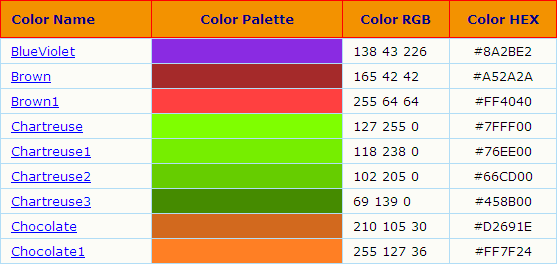 Color Converter
Convert color to RGB/HEX html color codes. Generate and edit hexadecimal color html codes for website background and for other applications with HTML Color Converter.

Color Palette
Find and edit color hexadecimal value codes by utilising Color Palette. HEX, hexadecimal html codes for website background and for other web development applications. 216-color web-safe palette.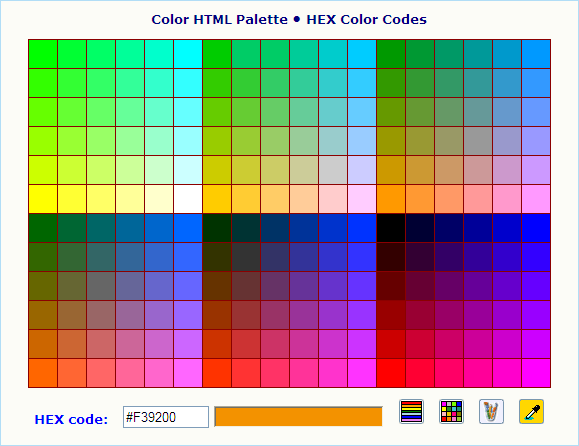 Color Picker
Generate color and convert it to html color RGB/HEX codes. Edit hexadecimal color codes for your website background and other web applications with HTML Color Picker.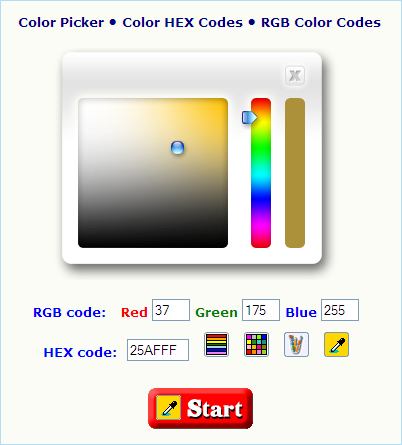 To grant access to this page, for the visitors of your site, just copy the code below and paste it into your Myspace blog or website.